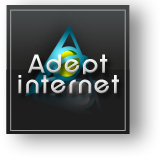 About Us
Founded in 2007, Adept Internet, LLC is a family-owned company, ensuring that we will be there for you in the years to come. We have years of experience prior to the founding of our company.
Jason Aus - Owner / Programmer
Jason has over 20 years experience working with various Information technology-related fields. He has extensive background in Customer Service, IT Support, Programming, Web Development and Sales. He has a strong desire to create high quality web solutions that are easy to maintain.
We look forward to working with you!